Apartment from Scratch
So Rivet and I moved in together a few months ago (7 months ago already), and we had to completely start from scratch. We both had furniture overseas but we didn't bring it back with us to the US! I thought I would share a little bit about how we've set up our apartment from scratch, (and on a budget!) Also, this whole post is basically Romeo "I Spy" because he insisted on following me around and laying down right in the middle of every frame.
living room
It's basically taken me so long to post about our apartment because it took us MONTHS to get a couch, and then when we finally got a couch, I barely left it! We are lucky to have quite a big living room with a lot of natural light, so my plants are thriving. I've collected a number of poster-sized prints during my travels, so I was thrilled when somebody recommended these magnetic hanging poster frames. They are so much more affordable than a huge frame and I LOVE the way they look!
I've listed a few of our living room accessories below, because all of our furniture slowly came together from all over the place! The chairs in our living room were thrifted, but the indoor/outdoor cushions are listed, Rivet built our coffee table and TV stand (yes, he is dreamy), and our sectional was from a local store over in Destin. The rattan planter below is similar to the basket that I have my palm in, and I use the trivets and jute placemats under my plant pots! (Refresh the page if you can't see items below).
My new little diffusing station (below) was one of the final touches to our living room and I think it is a great feature. This ceramic diffuser by Vitruvi looks like a chic little vase! If you're interested in purchasing one, (of if you need to restock your essential oils) you can use my code "hikeinheels" for 20% off of your entire purchase. I'll be doing a whole blog post about them once I've tried all of their oils and discovered my favorites.
We love Romeo's dog bed because it matches our couch, so it's like he has his own mini couch! It's mostly just a place to pile all of his bones and toys when we want to tidy up, but I feel like that helps to keep things clean with a puppy.
We have a small, screened in patio off of our living room. We don't spend much time out here but I am thrilled that my little outdoor garden is thriving! I have lavender, and then a pot with cherry tomatoes, jalapeños and basil. I will keep you posted when the veggies start producing! Romeo loves to sit out here and watch the ducks.
dining area
As you can see, we don't have a full dining room, but rather a little dining nook. For that reason, we wanted a small table knowing that we'd hopefully be able to use it as a desk or something in our next apartment or house. We love the modern style, small dining table that we got from Amazon and it was extremely affordable! The yellow dining chairs are also from Amazon and they are top rated— we love them. They're really comfy, and the fourth one is in use in my office.
It's so fun to display trinkets that I've collected throughout my travels. I've been hoarding everything in America so I haven't had any of this with me the last few years while I lived in Australia. The masks, bow and arrows, and woven bowl are all from East Africa.
Our kitchen isn't much to write home about— it's small and practical and we're in a rental so we can't do much in there anyway! But, I love this little photo wall that we made on the side of our fridge, with lots of memories from 2014/15 when I had them printed. I have been on a huge organizing kick and am adding lots of bins to our pantry. My next purchase is going to be this tea box from Amazon, I think we'll need a couple!
bedroom
Our bedroom was the room that we prioritized to finish first, so that we had a place to relax at the end of the day. Our upholstered bed is from Amazon, and I've linked our other furniture below, (including similar simple bedside lamps)! Can you tell that Romeo chewed up the lampshade on the left??
Our exact wallpaper is unfortunately sold out, but I've linked some similar versions below that would be equally stunning. I can't recommend wallpaper enough! It honestly brightens my day lol. And I love that it brings "greenery" into our room which doesn't get enough direct sunlight for plants.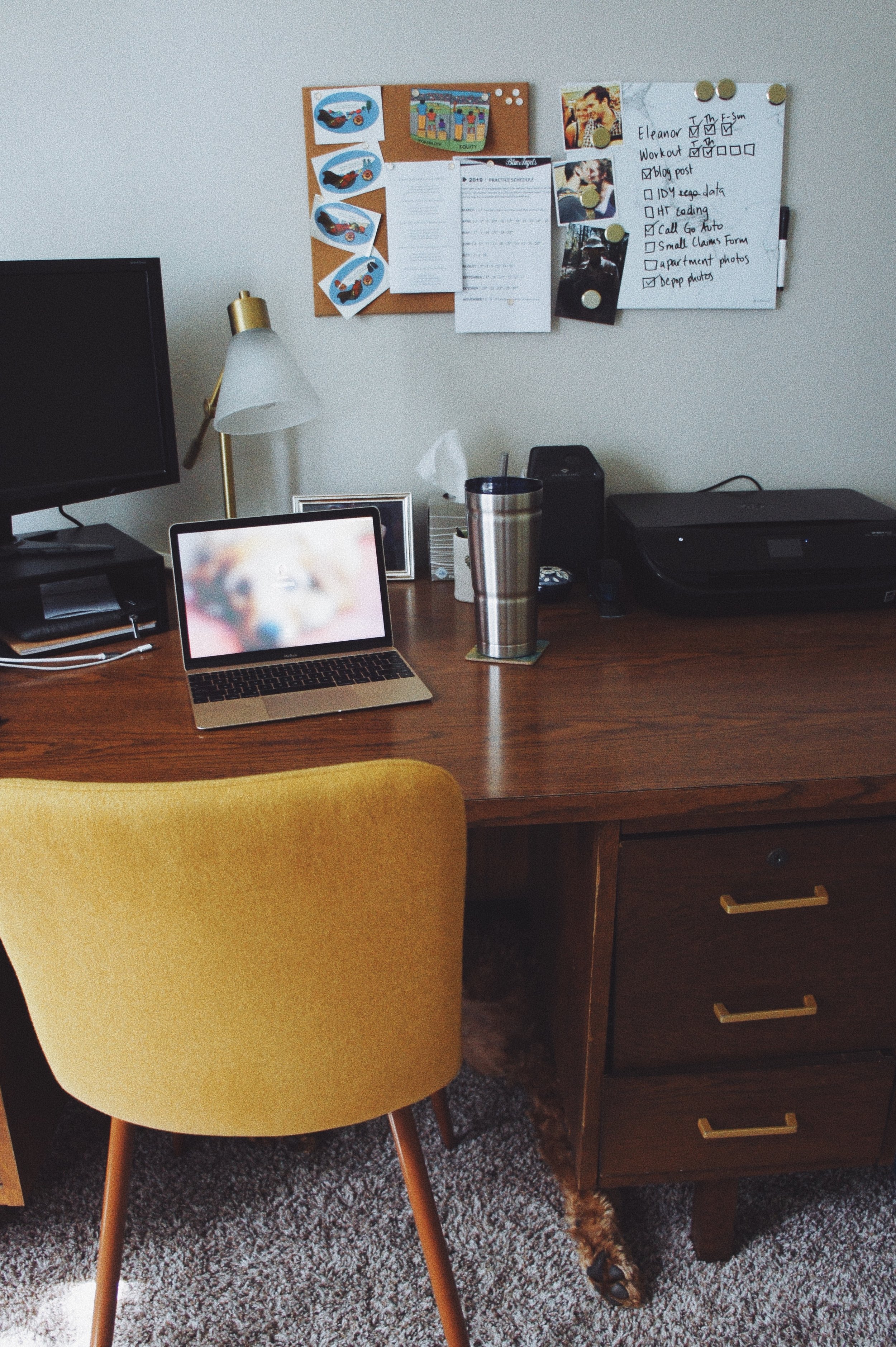 We were lucky to have a guest room to turn into a little office space. We found this giant desk on Facebook marketplace— we thought it might be too big but it was full immediately after we set it up! I also got the monitor for $20 from a thrift store which was super lucky. The little desk lamp matches our living room lamp— I like to make sure things are flexible to move between rooms if we feel like changing things up. I can definitely up my cute desk game, but its is coming together slowly but surely!
Hope you enjoyed this little tour, this is sleepy Romeo waving goodbye!