Camping With a Pup
We've now taken Romeo camping a couple of times, so I wanted to share some tips and tricks that we've learned and will continue to use when we go camping. (This also gives me an excuse to post a bunch more cute photos of Romeo!)
I've included a list of our necessary items at the end of this post if you don't want to find the links in the text.
We are really lucky that Romeo is a great car dog. For a long trip, we make sure to bring an old comforter to make a cozy spot for him that we can then move to the tent. We also bring a few old towels to keep in the car for at the end of our hikes because Romeo loves to get wet and dirty! I use a silicone kids' cup as a car water bowl for him. It works great because I can leave it in the backseat cupholder for him to access without too much of a mess.
Camping with Romeo involves a lot more outfit changes than his everyday life. Whenever possible, we don't keep him on a leash around camp or on the trail so we like for him to wear something bright so we can see him in the woods. These red bandanas are great for during the day and then we put an LED light up dog collar on him at night. It's so funny to see the light from his collar zipping around the woods!
in the tent
We've now taken Romeo camping in cold and hot weather. When it's cold, we pull the blanket from the car into the tent so make a cozy spot for him at our feet where our sleeping bag might not cover. When it's hot, we don't bother because he likes sleeping on hard surfaces (he sleeps on our wood floor at home rather than his bed) and the ground can help him keep cool. We obviously need a bigger tent to fit the three of us!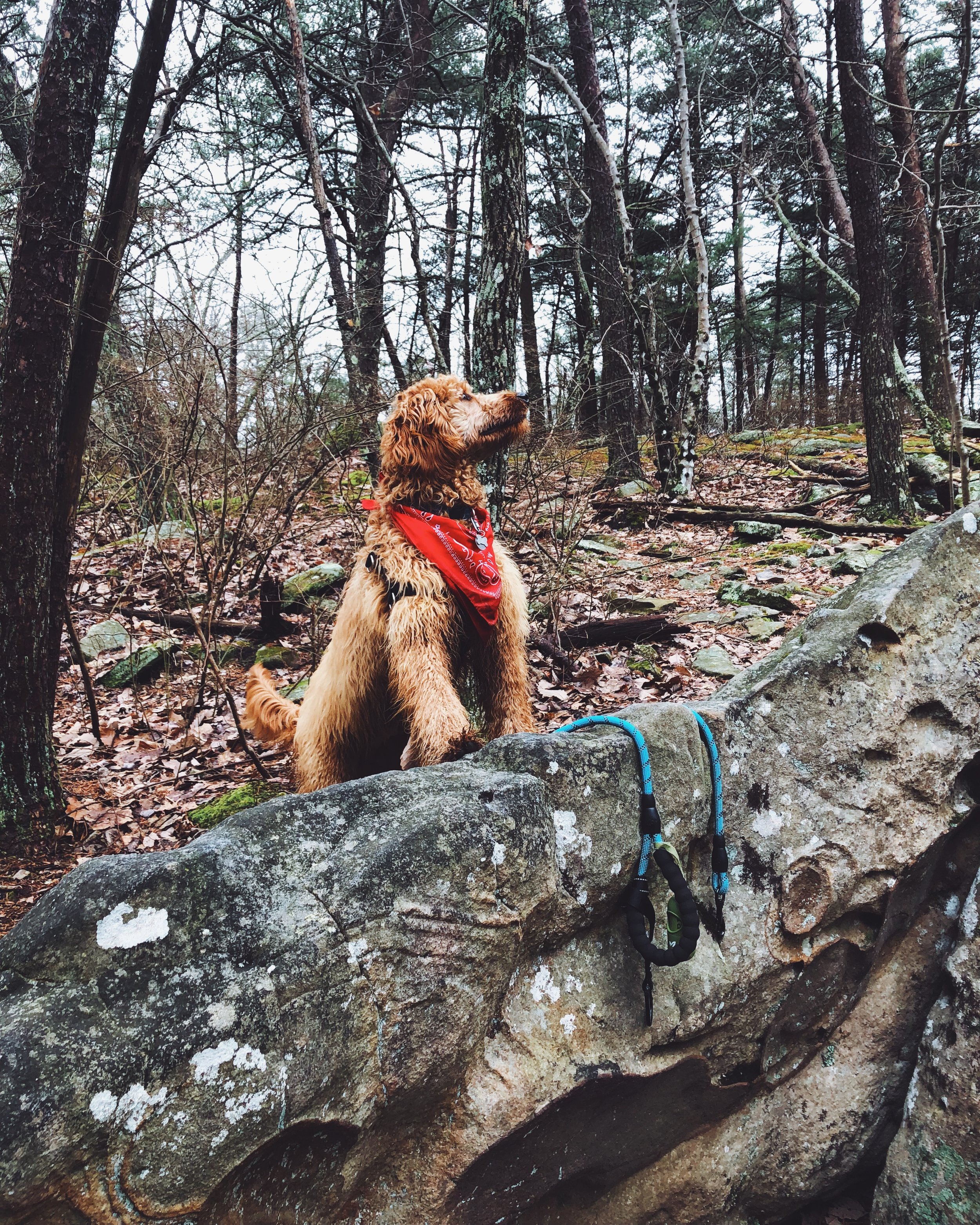 When it's hot, we bring this Ruffwear cooling vest for Romeo to wear during the day on the trail. We have the bright orange one, which again, helps us spot him when he's running around. Although we haven't used them yet, we plan on getting him these Ruffwear grip trex booties and Ruffwear boot liners (socks) for the next time we take him hiking in the snow— with his long hair, the snow gets compacted in his paw pads and turns into solid ice. These are the booties with the best reviews IMO. The pair we ordered were too big for him so we weren't able to try them out on our last camping trip!
When we get to the crag, we make sure to have travel food & water bowls for Romeo to eat and hydrate while we hang out, (as well as plenty of treats for when he's a good boy!)
We also bring this vibrating dog collar with us whenever we travel. It works really well for Romeo— it beeps the first few times that he barks and if he barks too much it vibrates like a cell phone (never shocks). We usually don't even need to have batteries in it and it works as a placebo and keeps him calm (which he needs to be when people are climbing!)
I hope this list helps if you are planning to start taking your dog camping! We love that we can bring Romeo with us and he has the time of his life. We even go to celebrate his 1st Birthday while camping!
our necessities
Share your favorite outdoor dog supplies below, I'd love to hear about them!